:

:

:

Re: Calculating Cost-Trump Turmoil Market Pushed2B...
Calculating Cost-Trump Turmoil Market Pushed2Brink
Reply
Topic Options
Mark Topic as New

Mark Topic as Read

Float this Topic for Current User

Bookmark

Subscribe
Highlighted
Valued Social Butterfly
Mark as New

Bookmark

Subscribe

Email to a Friend
Re: Calculating Cost-Trump Turmoil Market Pushed2Brink
72 Views
Dare we talk about the supposed saving of the Steel Industry?
The RW heard that his rhetoric and then turned off their hearing aid. Unfortunately for the listening / hearing impaired, Mr. Market doesn't care, it looks at the Industry.
First, there are no new Steel Factories being built.
Second, the RW say that market is great, just don't look at specifics. Well, the Libertarian website dared to do just that. See Below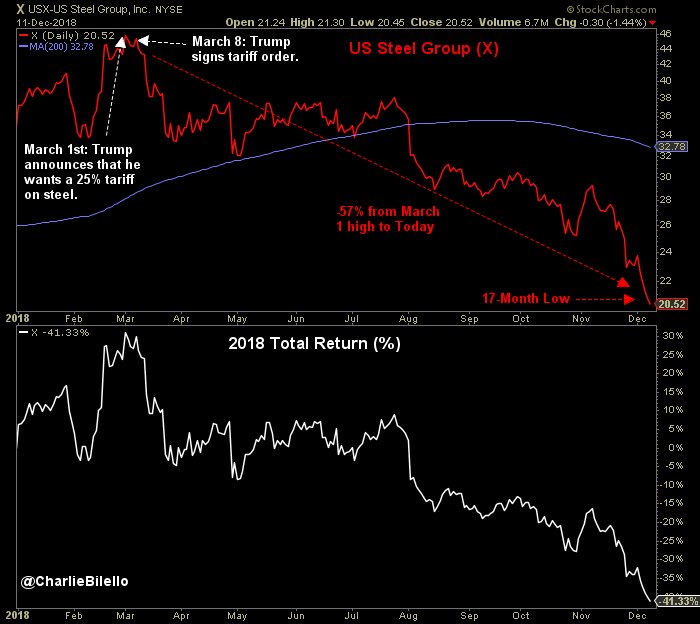 As Reason writes, has everyone forgot to perform a cost / benefit analysis....apparently so.
Steel Industry stocks have only dropped 57%.
If American steelmakers are the "winners" of the trade war, it's only because other American industries are losing worse.
https://reason.com/blog/2018/12/12/us-steel-stock-has-dropped-50-percent-si
PRO-LIFE is Affordable Healthcare for ALL .
Report Inappropriate Content
Valued Social Butterfly
Mark as New

Bookmark

Subscribe

Email to a Friend
Re: Calculating Cost-Trump Turmoil Market Pushed2Brink
80 Views
Since he got it in 1999, all lil' donny has managed to do is keep the money his daddy stole from the IRS from shrinking from inflation, so why is anyone surprised he is a total disaster in trying to manage the Government of the USA?
The only business he's actually tried to manage was his casino which cost his investors nearly a billion bucks, resulted in 6 separate bankruptcy filings, and devastated the economy of Atlantic City. Now he's doing the same for America, and people are SURPRISED? Why?
The Corporate Oligarchs are pleased lil donny handed them $1.2 Trillion which they put into their own pockets, and now we're begining to see the results of cutting taxes for the Uberrich while cutting support for the bottom 90%. This and all the GOPer deregulation is driving us over a cliff much scarier than the one jrbush drove us over - this time the American People have no stomach for ANOTHER bailout of banks and businesses while nobody that caused the problem goes to court, let alone to jail.
The collapse looks like it'll be hear in less than a year, so at least we'll get rid of the elected GOPers who keep causing these disasters, but that's going to be small consolation to the millions who will once again lose everything on the Republican Altar of Deregulation and tax cuts for the rich.
Report Inappropriate Content
Treasured Social Butterfly
Mark as New

Bookmark

Subscribe

Email to a Friend
Calculating Cost-Trump Turmoil Market Pushed2Brink
91 Views
From rising interest rates to stretched valuations and tariff wars -- the things investors once had patience for, they no longer do.
And some argue, the same could be said for the market's tolerance for the political drama surrounding Donald Trump's presidency, which in recent days has become all the more acute. At a time when jitters over the economy and earnings are already running high, Trump's travails are only serving to create more doubts among investors.
"That cloud of uncertainty becomes bigger," said Joseph LaVorgna, chief economist for the Americas at Natixis. "What we see now is a world where you have concerns about the economy slowing, and then overlaid with this is what happens with the new Congress, possible investigations as it relates to the White House."
Take today's session, one that saw blowout retail sales and factory data, the lifting of auto duties by China -- and the biggest decline for stocks in a week.
That the day's news flow also continued the drumbeat of headlines damaging to the president struck a few analysts as not irrelevant to markets.
"It just adds to the noise, adds to the confusion, that uncertainty increases risk premium, so you're going to see equities remain more volatile," said LaVorgna. "You're going to see the yield curve remain flat because investors are going to put money into fixed income assets as a safe haven -- that's what we've been seeing."
Source - https://www.bloomberg.com/news/articles/2018-12-14/calculating-the-cost-of-trump-tumult-in-a-market-...
( " China if You're Listening - Get Trumps Tax Returns " )

" ) " - Anonymous
Report Inappropriate Content