Updated March 2019
You likely have at least one of these things somewhere in your home – even if just in the form of a power strip – maybe protecting your modem, computer or TV. For many consumers today, an inline unit that's connected at the outlet is an essential add-on to any expensive electronics we have in the home.
A Whole House Surge Protector can Keep Your Home Appliances Safe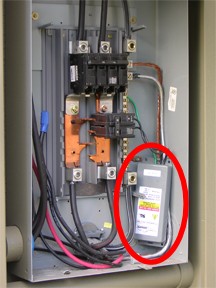 What many consumers don't realize is that these simple, inexpensive power strips may not be adequate for a serious surge. And you've likely overlooked your most expensive electronic devices, leaving them unprotected. Appliances such as your stove, refrigerator washer/dryer or air conditioning unitare all equally susceptible to a large percent of surges, yet most folks don't bother to protect them. It's estimated most households have around $10,000 of unprotected electronics on a standard circuit.
With our growing reliance on electronics and our inevitable move towards smart homes, it's just not feasible to get a power strip for every single outlet in your home. But, you can protect every electronic device in your home with a small investment and a little elbow grease.